Hot/Cold Shearing machine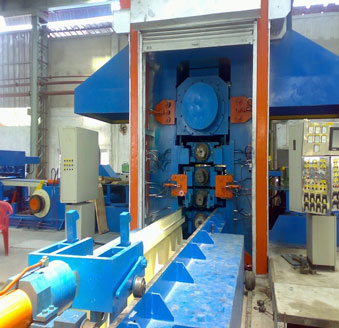 Hot Shearing Machines are used in Hot Rolling to cut desired length and as well as trim front and Rear End. These shear are capable of cutting section size ranges from 160 mm to 600 mm ( Beam, channel, Angle ) and as well as Square, Racks of 40 mm to 250 mm.
The hot Saw presently is of two types Pendulum Swinging type and the other is of horizontal shift type.
Cold Shearing Machines are used to cut the finished product in to desired lengths.
We manufacturer crop shearing machines for all kind of bars, round and structural products like Angle, I/H Beam, flat, U Channel etc.
Special Features
Steel Fabricated & Machined construction.
Double bored with Pulley-cum- Fly Wheels Alloy Steel Pinions.
All shafts made from EN-8 Steel.
Centralized oil lubrication system.
Complete in all respect.