Reduction Gear Boxes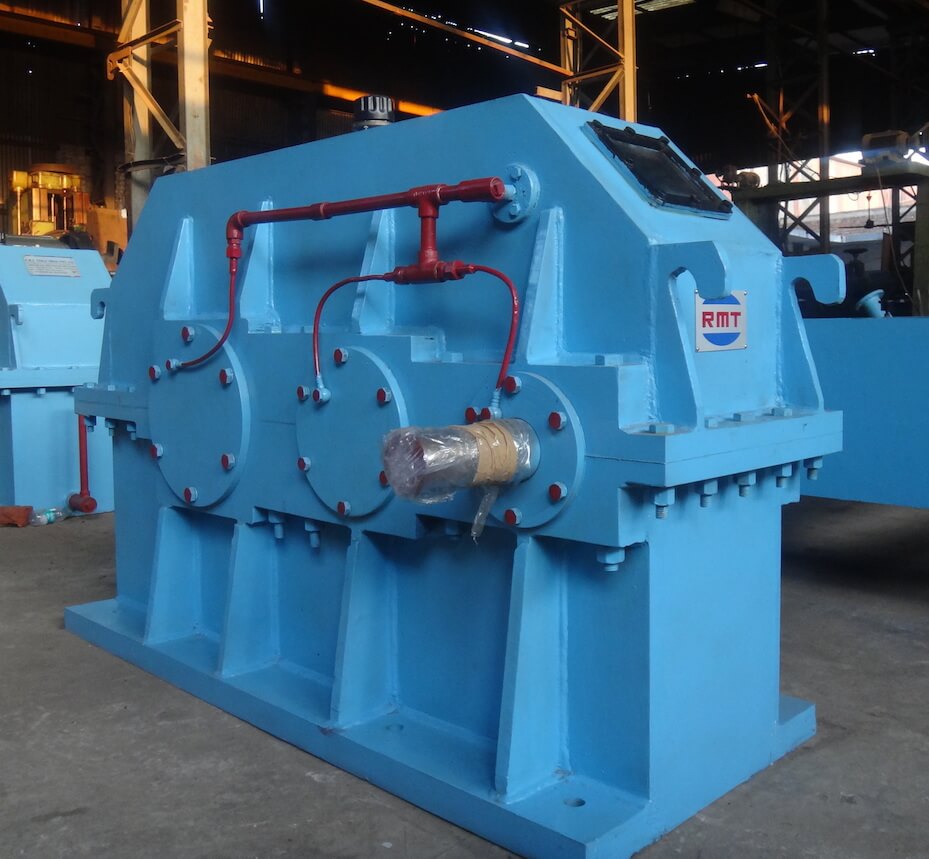 Reduction Gear Box is used to reduce an input speed to a slower output speed and more output torque. It is a wheel work consisting of a connected set of rotating gears by which power is transmitted or motion or torque is changed. We manufacture single stage, double stage or multistage gear boxes.
Qualities
Gear boxes designed as per ASTM/DIN/ Indian standards.
Designed to dampen vibrations.
Work efficiently at peak loads.
Single, double & multi stage.
Desired gear ratio.
Gears in DP system and module.
Forced, Splash & Spray Lubrication.
Fabrication
Steel fabricated body and housing.
Double oil seals.
Spherical Roller Bearing.
Heat dissipation window.
Fully machined Shaft.
Hardened & grinded gear for smooth run(forged EN-9, EN-19, EN-24 steel).
Size range of 150mm PCD up to 750mm PCD.
Speed of 50 RPM to 1500 RPM.
All Shafts of material forged class-IV.
Branded Heavy Duty Antifriction Spherical Roller Bearings are installed after thorough calculation.
Double Oil Seals complete with Internal & External Pipeline for lubrication of Gears & Bearings is provided.
Inspection window at various levels is provided for proper viewing of gears inside the gear box.
Flow indicator, temperature indicator and proper interlocking with mill is done.
Vent Pipes are provided for release of heat and oil from inside the Gear Box.
72 Hour Non-stop trial of gear box is done on various speeds before dispatch.
Vibration, voice and lapping levels are thoroughly checked on trial before dispatch.